Following Bitcoin, Ethereum, and other top cryptos lower, Compound (COMP) has shed 9% in the past 24 hours., the asset now trades at $180, lows not seen in over a week.
COMP's -9% performance in the past 24 hours makes it one of the worst-performing digital assets of that time frame. For context, Bitcoin and Ethereum both fell by approximately 2% over that same time frame.
While Compound's retracement is scaring investors, certain analysts remain optimistic due to technicals. There are also fundamental factors that may drive (at least temporary) demand for the Ethereum-based coin, thus pushing up prices.
Compound Could Soon Recover: Analysts
Compound's recent correction isn't scaring off too many analysts.
One cryptocurrency trader shared the chart below, which shows that as long as COMP holds the $380-387 region, it remains in a good spot. Referencing the importance of COMP holding these levels, the analyst who shared the chart wrote "Send COMP to the heavens."
The next marked level the analyst has on the chart os $228-238, a minimum of 25% above the current price of the cryptocurrency.
The asset reached those highs during a rally earlier this month, which brought Compound as high as $245.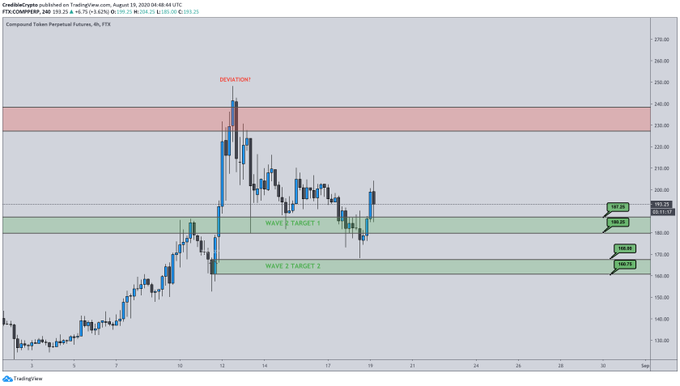 Chart of COMP's price action since the start of August with a level analysis by crypto trader Credible Crypto (@CredibleCrypto on Twitter). Chart from TradingView.com
This optimism was echoed by another trader, who shared this chart below. It shows that COMP was (and still is) on the verge of breaking above a pivotal diagonal downtrend that was formed at the aforementioned $245 highs.
Compound breaking above that level should lead to a move back towards those highs, though if new highs will be set remains to be seen.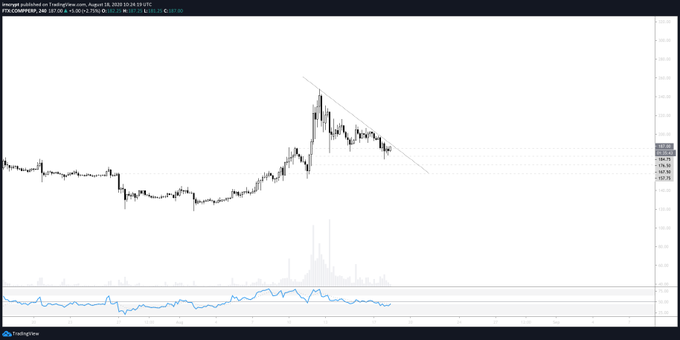 Chart of COMP's price action since the end of July with a level analysis by crypto trader CJ (@IrnCrypt on Twitter). Chart from TradingView.com
"Money Games" to Boost Demand for COMP
A fundamental catalyst that may boost the value of the Ethereum-based token is so-called "money games." Developers building on Ethereum have built many applications over recent weeks that incentivize users to "stake" or "lock" coins like Compound to receive a reward.
The most infamous of these is Yam, which managed to catalyze a 20-30% rally in the DeFi space from its launch alone. COMP rallied from $170 to around $220 in the 24 hours after Yam launched.
Although Yam's mining period is over, there are other games that are also pushing investors to buy, lock, and earn on their Compound.
Featured Image from Shutterstock
Price tags: ethusd, ethbtc
Charts from TradingView.com
DeFi Giant Compound (COMP) Dives 9%: What's Next for the Ethereum Token?