With Bitcoin failing to break past the highs it established earlier this year, there have been some commentators seriously considering a steep correction.
Ross Ulbricht, the founder of the Silk Road and one of the cryptocurrency's earliest adopters, postulated that there's a serious chance Bitcoin could revisit the $3,000s and maybe even lower. Ulbricht cited Elliot Wave analysis, which states that markets move in predictable wave-like patterns due to investor psychology.
Others have echoed this, with some expecting a move to the $1,000s.
But an on-chain signal and a technical signal suggest that Bitcoin is about to begin a long-term bull run, negating the expectations of a return to recent macro lows.
Bitcoin Prints Textbook Sign of an Impending Bull Run
Earlier this month, Bitcoin's network difficulty saw a strong correction lower. The network difficulty is how hard it is for BTC miners to find blocks.
Some saw this as a sign of a "miner capitulation" but according to Bitcoin chartist Nunya Bizniz, it allowed the cryptocurrency to print a textbook bullish sign. Referencing the chart below, he wrote:
"Today is the 9th monthly downward DA What makes this one unique is it's the 1st to occur post halving. Monthly DDA's may signal miner capitulation and market bottoms."
As can be seen in the chart he shared below, each "monthly downward difficulty adjustment" seems to have arrived when Bitcoin reverses into a bull market.
In 2018, two such signals were seen before BTC rallied by 300%. And in 2015, they marked the bottom in the $200-500 range before a more than 4,000% rally to $20,000 in the two years that followed.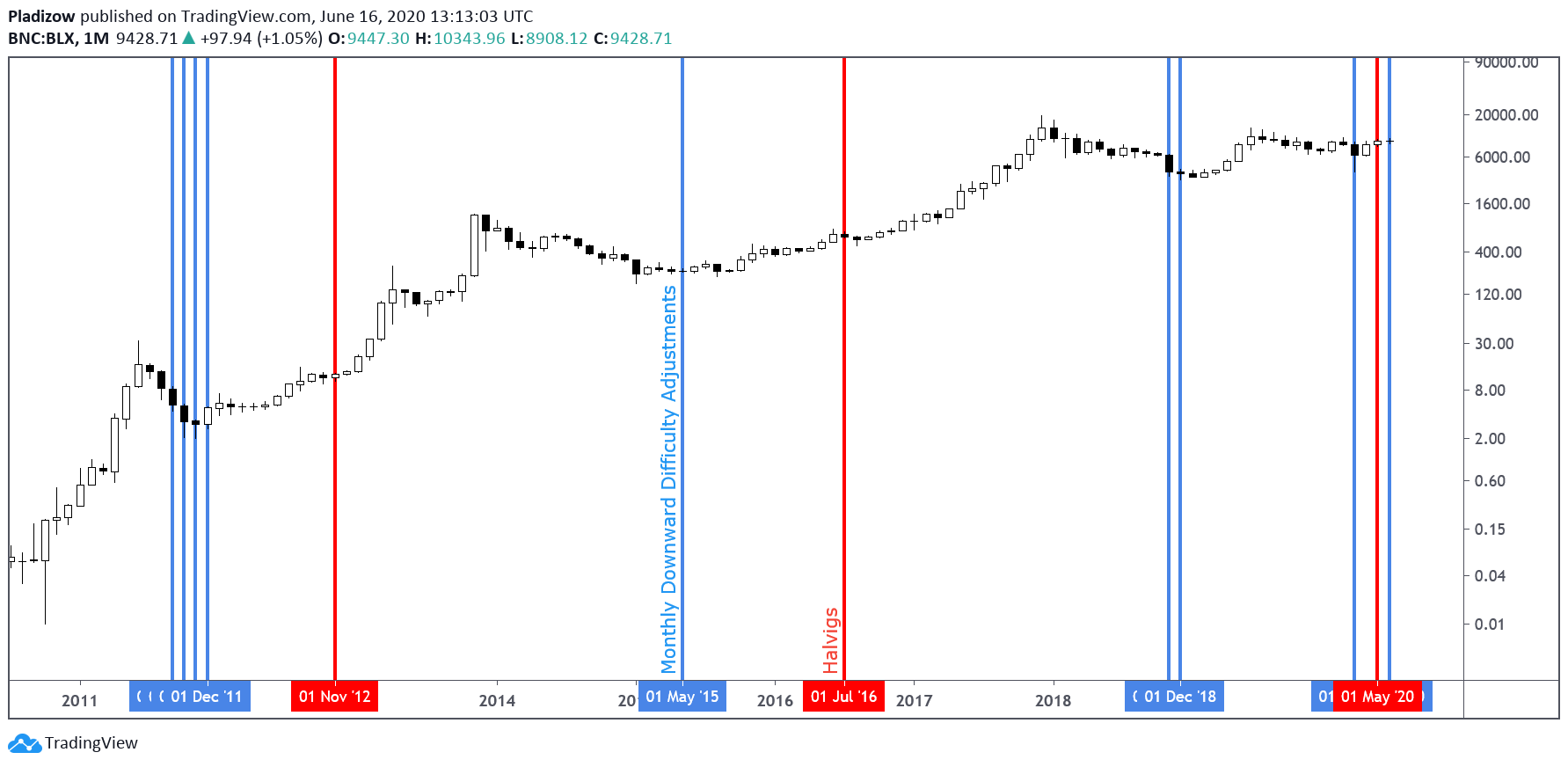 Adding to this, an analyst observed that Bitcoin's two-week relative strength index looks like it did at the start of the previous bull run. 
Don't Count Out a Correction in the Short Run
Don't count out a correction in the near term, despite the positive confluence of long-term technical signals.
As reported by NewsBTC previously, blockchain analytics firm IntoTheBlock currently sees Bitcoin as fundamentally "bearish" due to a confluence of on-chain and order book trends.
Three out of the company's seven core metrics are "bearish": net network growth, in the money, and large transactions. The four other core metrics are directional or "neutral."
Adding to the expectations of Bitcoin dropping in the near term, an analyst shared that BTC's chart is printing a textbook bearish divergence between a trend indicator and its price.
The divergence persisting will confirm that the uptrend from March's lows is decisively over, the commentator remarked:
"Without compounding the obvious, without a spike to undo the developing BTC divergence, this is the top."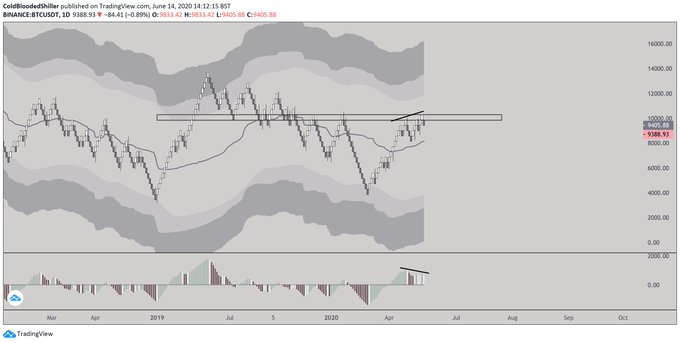 Featured Image from Shutterstock
Price tags: xbtusd, btcusd, btcusdt
When Bitcoin Flashed This Signal in 2016, It Rallied 4000%. It's Back Again