Many traders have argued over recent weeks that Bitcoin's recent price action resembles a textbook top. As NewsBTC has covered extensively, there are a number of signs to corroborate this sentiment:
Yet a trader has argued that Bitcoin topping at current prices doesn't make any sense to him. Here's why.
Did Bitcoin Really Establish a Top at $10,500?
A cryptocurrency market technician shared the image below on July 5th, showing that if Bitcoin tops here, it will be distinctly different than historical tops.
The key indicator that led him to this conclusion is the funding rate of Bitcoin futures on BitMEX. The funding rate is the fee long holders pay short holders every eight hours to normalize the futures price with the spot market.
As the chart below shows, every time Bitcoin has topped in the past two years, it happened when the funding rate was positive. At current, the funding rate is negative, meaning Bitcoin retracing from here would be odd from a historical perspective.
Chart of BTC's price over the past ~two years with funding rate indicator from trader Byzantine General (@ByzGeneral on Twitter). Chart from TradingView.com
Just because the funding rate of Bitcoin futures isn't positive doesn't mean that BTC will rally, another analyst has argued.
This individual wrote that since BTC's recent rally was largely catalyzed by spot exchanges, futures indicators currently may have little credence:
"It is possible that since this Bitcoin structure was very spot driven, that we can all be right at the same time in thinking this breaks down. The spot drive was from the same retail Robinhood types that were indiscriminately buying risk assets across the board."
Long-Term Holders Unfazed
Whatever way Bitcoin's current range resolves, many investors are unfazed and have stuck to accumulating instead of timing the market.
On-chain analyst Philip Swift noted last week that more than half of all BTC in circulation hasn't moved in over a year.
"Bitcoin 1yr HODL new ATH!! We have reached a new all-time high, with 62% of bitcoin not moving on-chain for at least 1 year. Strong hands from hodl'ers! Such high levels of HODL'ing have been present at the start of previous Bitcoin bull runs," Swift wrote in reference to the image below.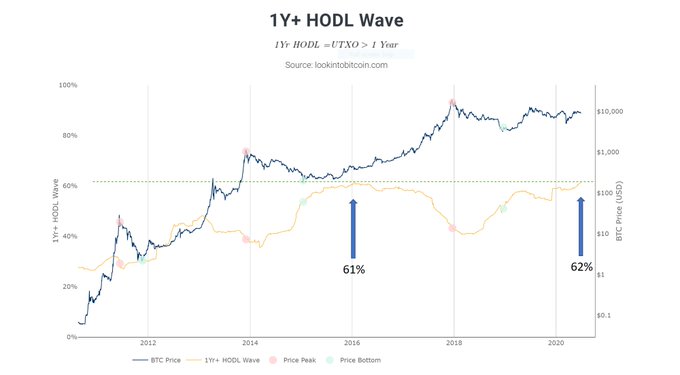 Bitcoin 1 year+ HODL Wave indicator from on-chain analyst Philip Swift (@PositiveCrypto on Twitter)
Analysis by Rafael Schultze-Kraft, the CTO of blockchain analytics firm Glassnode, has indicated a similar trend. Kraft released an extensive Twitter thread published on the habits of long-term Bitcoin investors.
BTC HODLers have accumulated tens of thousands of coins since the start of 2020, per Glassnode data. Simultaneously, hundreds of thousands of Bitcoin have been withdrawn from exchanges, representing a decrease in potential sell pressure.
Featured Image from Shutterstock
Price tags: xbtusd, btcusd, btcusdt
Charts from TradingView.com
Why an Analyst Isn't Convinced Bitcoin Established a Top at $10,500