Just a day after New Year's Day, prominent Bitcoin analyst Financial Survivalism (also known as Sawcruhteez) posted the below tweet for the world to see.
In it, the pseudonymous trader, who is good friends with Tone Vays and the now-passed Tyler Jenks, claimed that Bitcoin was starting to show signs it was forming a textbook Wyckoff Spring pattern. The pattern, Sawcruhteez suggested, implied BTC was going to hit $9,200 in January.
Possible $BTC fractal that I will be keeping a close eye on. Would line up very nicely with a Wyckoff Spring. pic.twitter.com/qD9MjNRhLT

— Financial Survivalism (@Sawcruhteez) January 2, 2020
And that it did. By January 17th and 18th, the leading cryptocurrency had passed above the key psychological and technical resistance of $9,000.
Sawcruhteez, having made that extremely accurate call, just issued his latest short-term price prediction on Bitcoin, expressing optimism about the asset's trajectory.
Bitcoin Ready to Surge Past $10,000, Declares Top Analyst
In a tweet published on Tuesday after Bitcoin suddenly surged to $9,425 in a move straight out of left field, Sawcruhteez wrote that Bitcoin has formed a perfect cup and handle breakout.
The cup and handle, for some perspective, is a bullish chart pattern marked by two rounded bottoms at two different levels that most often sees assets strongly break higher from a local bottom.
Per the analyst, this specific cup and handle has a targeted move of around $11,675 — 25% higher than the current price of $9,350 — which should mark the first higher high on the weekly chart in seven months should Bitcoin reach that price level.
#Bitcoin just confirmed a cup and handle with today's close. If it can reach it's target of $11,675 then it would be the first higher high on the weekly in seven months. 🚀 pic.twitter.com/wZSTgzSCCt

— Financial Survivalism (@Sawcruhteez) January 29, 2020
This isn't the only reason why he's bullish. Sawcruhteez continued in an accompanying TradingView post that the cryptocurrency is starting to look "quite bullish," citing the impending golden cross in the 50- and 200-day moving averages, the breakout of the bear channel, among with a swath of technical indicators suggesting bears are finished. 
Not Only Accurate Trader That is Bullish
Survivalism isn't the only eerily accurate trader to have recently aired cheery sentiment.
Per previous reports from NewsBTC, Filb Filb — the trader who last year in October posted the chart below, eerily predicting Bitcoin's price action — wrote in the latest edition of his Decentrader newsletter that he's bullish on BTC.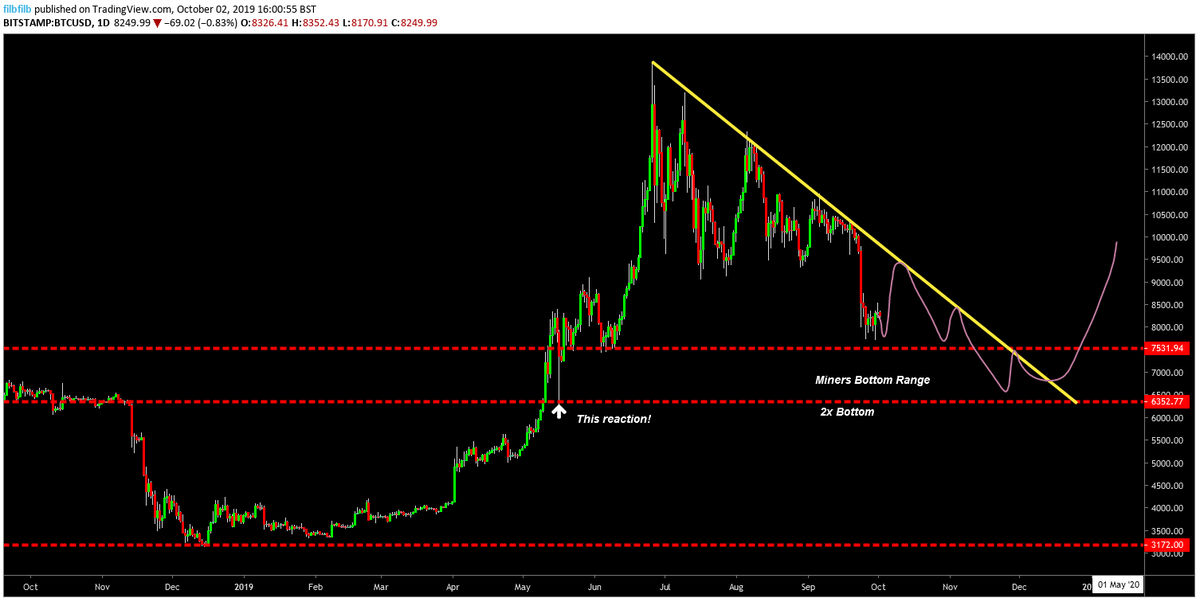 More specifically, he said that by the time of the halving, he expects for the cryptocurrency to be trading well above $10,000:
"Overall, Bitcoin is exactly where [I] anticipated; slowly grinding up towards previous resistance… I'm very much of the opinion that Bitcoin will reach to at least $12,500 level before the halving."
As to why $12,500 makes sense, he noted that that is the "top target" for a bullish inverse head and shoulders chart that is forming on a medium-term basis for Bitcoin.
Featured Image from Shutterstock