In December, crypto analysts across the board were almost certain that Bitcoin was poised to fall to the $5,000s and maybe even lower; after surging to $14,000 by June 2019, the cryptocurrency had entered a steep downtrend, marked by successive lower lows and lower highs.
But, this changed at the turn of the year. After showing signs that it was going to head lower in 2020, the crypto market saw a massive bullish reversal in the month of January, with the market cap rallying from $185 billion to $250 billion, per data from TradingView.
While many have embraced these moves in the price of Bitcoin, Ethereum, XRP, and other crypto assets with open arms, few know exactly why this took place.
CNN recently released an article addressing this debate, citing a number of industry executives as to what pushed this market higher.
Why Is Crypto Surging So Much Higher?
In a statement for the Saturday article from CNN Business, Shaun Djie, CEO of digital token company Digix, attributed the recent rally to "ongoing economic uncertainties." More specifically, he looked to the ongoing Brexit fallout, the trade tensions between Japan and South Korea, and the U.S.-China trade war (which is kind of on pause).
Djie also cited the ongoing coronavirus outbreak that originated in China, claiming that the "rise in the BTC price correlates to the ongoing outbreak." Many have disputed this theory, however.
Marija Veitmane, senior multi-asset strategist with State Street, said in an interview that Bitcoin is likely benefiting from the fact that interest rates are so low and even negative, which has led to a decline in the U.S. dollar, which has led to BTC appreciating.
More Gains Are Coming…
While 35% in a month is already astonishing, some say it's a precursor to an even strong move higher in the coming months.
Trader CryptoBirb posted the below chart after Friday's candle close, showing that the performance of the leading cryptocurrency is January is likely a precursor to an even larger move higher.
Per the analyst, Bitcoin formed a "strong engulfing" candle in January, bouncing off a zone of high demand in the $6,000s. This, he claims, signifies there is "high time frame demand" for BTC. He added that with the candle closing above the three-month resistance of the $9,100 price point, an even larger bullish reversal is likely in store for the crypto asset market.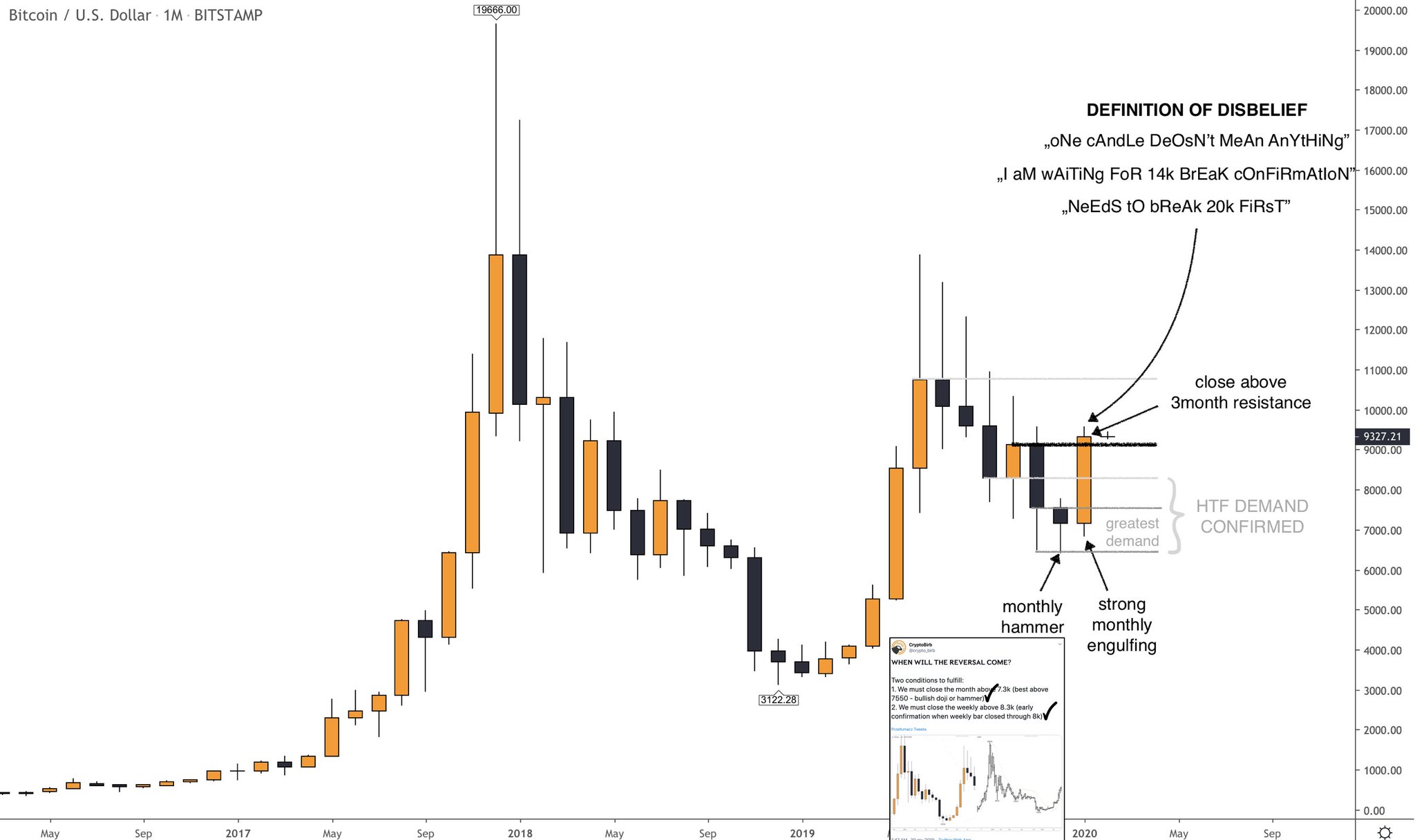 Fundstrat Global Advisors — a market research firm that has fallen down the crypto rabbit hole — noted in a recent note that the leading cryptocurrency has crossed above the 200-day moving average of its price.
This, they claim, is an extremely bullish sign indicating Bitcoin has entered back into a bull phase, for crossing above this technical level gives the cryptocurrency an 80% six-month forward win rate.
Featured Image from Shutterstock