While Bitcoin and Ethereum have stagnated over recent days, multiple altcoins are pressing higher and higher. Zcash, for instance, has gained dozens of percent in the past week alone as its technical and fundamental case strengthens.
The coin of the day, though, seems to be Balancer (BAL). The Ethereum-based altcoin, which is a governance token for the Balancer protocol, has doubly surged in the past few hours.
As can be seen in the chart below, BAL ripped from the $10 baseline it was trading at a high of $15.50 in the span of two hours. The cryptocurrency has since retraced to $12.5 as of this article's writing, with swing traders presumably taking profits after this legendary pump.
Chart of Balancer's price action over the past few days (FTX market data) from TradingView.com
Why Is The Ethereum-Based Balancer Up So Much?
Balancer rallied due to it being listed on Binance, which was announced on the morning of August 6th. Binance is arguably the first major exchange BAL has been listed on aside from FTX, hence why investors see this as such a significant event.
That's not to say that the move higher was entirely unexpected.
One cryptocurrency trader shared the chart below just a day before the listing, noting how BAL had a bullish structure. What he didn't expect, though, is for the Ethereum-based altcoin to rally so high and so fast.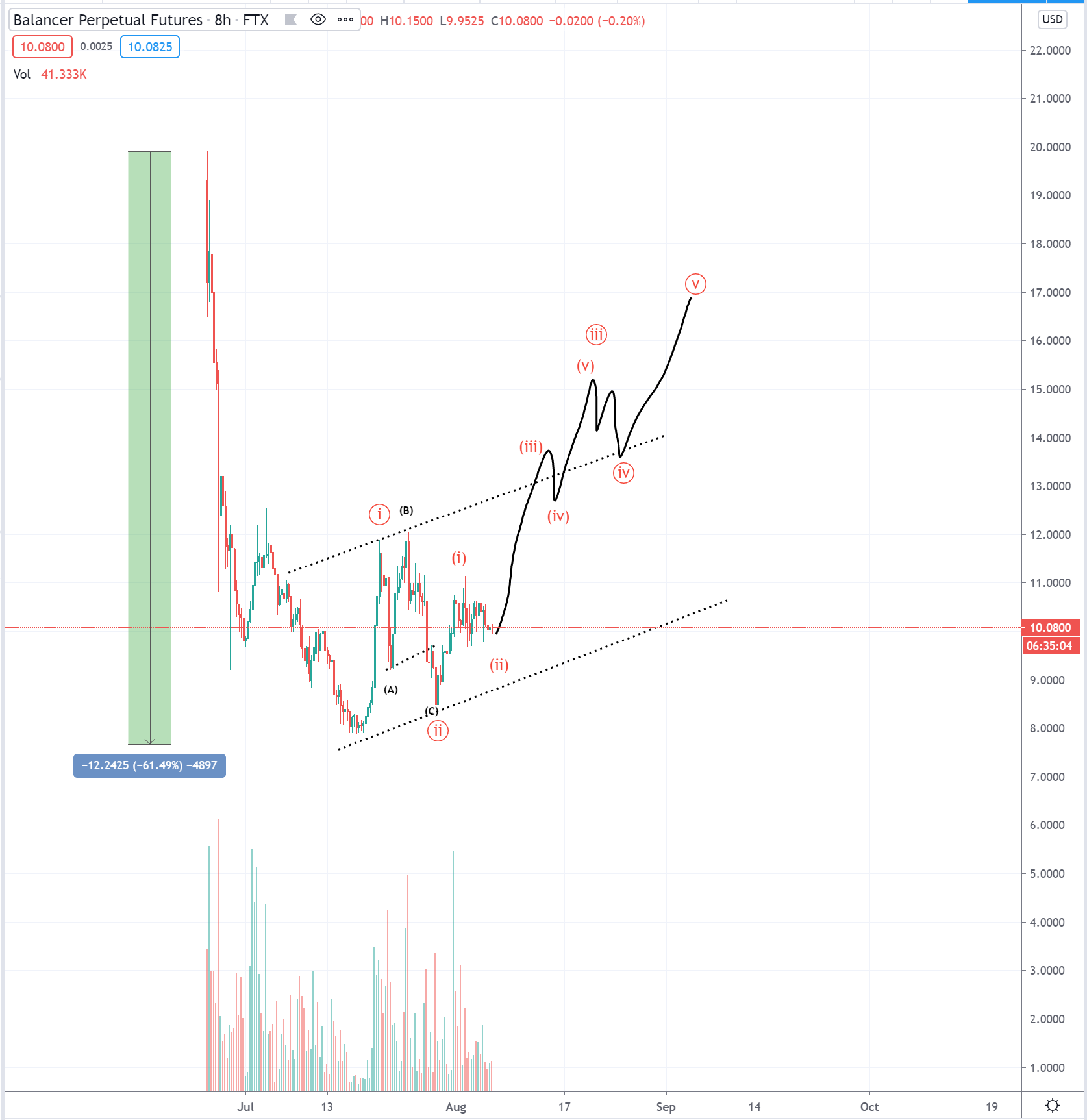 Chart of Balancer's recent price action with analysis by SmartContracter (Twitter handle). Chart from TradingView.com
A True Bull Market: Listing Pumps Are Back 
Although Balancer has given back some of the gains it underwent because of the Binance listing, it is clear that listing pumps are alive and well.
In 2017 and 2018, cryptocurrencies would pump sky-high whenever they were listed on a reputable exchange such as Coinbase, Binance, or Bittrex. Coinbase's listings were the most well known because they were so elusive and had such a large impact.
We're seeing this now with Balancer, as aforementioned, and with other tokens.
The day before the Ethereum-based BAL was listing on Binance, Band Protocol (BAND) also secured a major listing. BAND secured a spot on Coinbase, which makes it one of the newer assets to be added to the platform.
On this news alone, BAND gained around 50% in the span of five minutes, literally rocketing the cryptocurrency up the leaderboards.
Analysts say that the existence of these infamous listing pumps are a clear sign that the cryptocurrency market is in a bullish phase.
How the next crypto asset reacts to a Coinbase or Binance listing, though, remains to be seen.
---
Featured Image from Shutterstock
Price tags: balusd, baleth, ethusd, ethbtc
Charts from TradingView.com
Ethereum DeFi's Balancer (BAL) Surges 25%: Why the Altcoin Is Up So Much