Bitcoin and the aggregated crypto market have flashed some signs of weakness over the past 24-hours, with the benchmark digital asset reeling down to the lower boundary of its long-held trading range in a sharp overnight movement.
This latest volatility comes as multiple factors begin stacking up in seller's favor.
One such factor is the resurgence of the PlusToken Ponzi Scheme mixing its massive cryptocurrency holdings. This is a sign that the now-defunct Chinese-based scam is looking to offload more of their holdings.
In the past, PlusToken has been implicated as being the source of numerous BTC and market-wide selloffs throughout 2019. It is possible that they will place some immense downwards pressure on Bitcoin in the weeks and months ahead.
Another factor that could stop the benchmark cryptocurrency from climbing any further is massive outflows from miners – a sign that they are also planning to offload their crypto holdings in the near-future.
Bitcoin Bears Rejoice as PlusToken Transfers $458M Worth of Crypto
PlusToken grabbed headlines throughout 2019. The Ponzi scheme stole billions of dollars' worth of cryptocurrency from unsuspecting victims, and none of these funds were ever seized or returned to investors.
Some investors do believe that the scam – which tends to dump their crypto holdings into strong market conditions – will continue placing immense pressure on the cryptocurrency market in the years ahead.
This could halt any potential parabolic rallies that bulls attempt to spark in the months and even years ahead.
Earlier today, Spencer Noon – the head of DTC Capital – spoke about the latest batch of PlusToken-related transactions, noting that the value of the crypto they have moved this week totals at nearly $500 million.
Most of this is distributed between Bitcoin and Ethereum.
"This week the following #PlusToken funds have been on the move to exchanges and new addresses for mixing: – 22k BTC ($203m USD) – 789k ETH ($183m) – 26m EOS ($68m) – 20m XRP ($4m). The big question: can the crypto markets absorb this volume or are we headed lower?"
Miner Outflows Strike a Blow to Bitcoin's Bull Case 
PlusToken isn't the only potential source of selling pressure that may be placed on Bitcoin in the near-term.
As reported by NewsBTC yesterday, data from analytics platform CryptoQuant shows that miner outflows to exchanges have been spiking over the past few days.
This nearly always correlates with a short-term downtrend, and it appears that the effects have already been seen – as Bitcoin plunged to $9,000 overnight.
The CEO of CryptoQuant spoke about the importance of watching miner outflows, saying:
"If you know when the miner sends money to exchanges, you can infer when the BTC price will plunge. The amount of BTC sent doesn't matter when looking at the 'Miner to Exchange flows.'"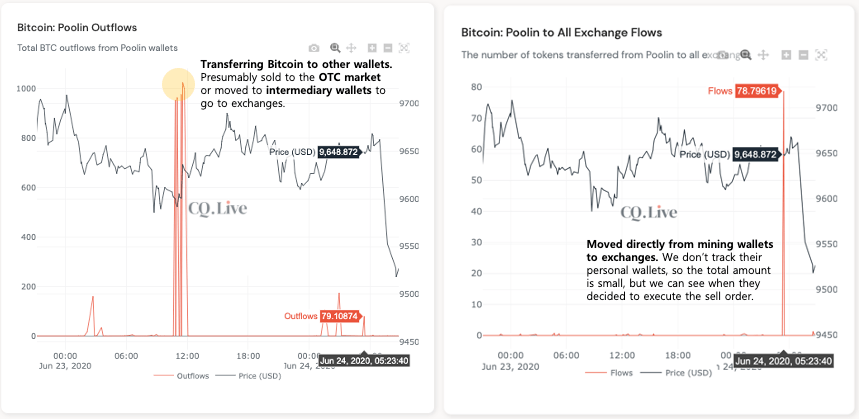 Image Courtesy of Ki Young Ju
The confluence of these factors could put a firm end to the uptrend Bitcoin has been caught within since mid-March.
Featured image from Shutterstock.