As Bitcoin has flatlined in the past 24 hours, XRP has exploded. Per data from CoinMarketCap, the third-largest digital asset by market capitalization is up 10% in the past 24 hours, rallying from $0.25 to just shy of $0.28 as of the time of writing this.
The cryptocurrency just last hour briefly moved above the $0.28 price point, setting its highest price point in literal months.
It seems that this strong rally in the price of XRP is tied to BitMEX's launch of a financial vehicle tracking the cryptocurrency's U.S. dollar performance, which launched an hour or two ago as of the time of writing this.
Indeed, daily volume on XRP trading pairs is the highest they've been in over two weeks (and the day is ~25% through), suggesting many traders are trying to speculate on how this new vehicle will affect the altcoin.
Can XRP Continue Higher?
Right now, the question on the minds of cryptocurrency traders is, "can XRP continue to rally higher?"
According to a number of prominent analysts, the answer to this question is a decisive yes.
Prominent analyst CJ noted in January that XRP's price action in early-2020 was eerily reminiscent to that of altcoins Bitcoin Cash and Bitcoin Satoshi's Vision prior to their latest breakouts. More specifically, he pointed out that like the Bitcoin forks prior to their rallies, the price of XRP was consolidating under a range equilibrium price point.
A break and hold of the range equilibrium, which the asset completed earlier this week, sets XRP up for a strong surge towards $0.3150 and potentially beyond, CJ's analysis suggested. 
$XRP – Break the EQ and 🚀 pic.twitter.com/83GUxNJf0n

— CJ (@IrnCrypt) January 19, 2020
Not to mention, we reported today that XRP just broke above a two-year downtrend level. This event could lead to a strong rally, NewsBTC's Tony Spiltoro wrote.
Although these technical factors support price appreciation, trader Crypt0mer just recently published the below image to Twitter, showing that the predicted funding rate for the XRP contract on BitMEX is 0.7500% for longs.
Extreme funding rates often mark inflection points in markets, suggesting that XRP's rally may soon come to an abrupt stop because longs are extremely overleveraged compared to shorts.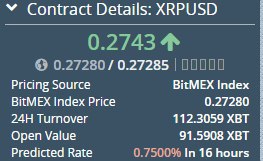 Featured Image from Shutterstock