Following the outstanding gains since the turn of the year, sentiment across the entire market has flipped bullish. None more so than for XRP, which managed to break a two-year downtrend by breaching the $0.28 level.
Indeed, with 2019 being a year to forget for XRP holders, the recent gains, which see the third-largest cryptocurrency by market cap up 47% since January 1st, have injected newfound optimism. On top of which, fundamental goings-on for the project suggests further cause for celebration.
XRP Is Back In The Game
Technical analyses for XRP indicates that a further leg up may be on the cards. And having been on a noticeable upswing since the start of February, the divisive altcoin has succeeded in retaining its gains so far.
High profile trader Crypto Michaël posted the chart below. It shows XRP's recent performance has brought it within a USD price band established in August 2018. He also noted that a two-year downtrend against BTC has been broken.
I think this one will do well, when $BTC calms down.

Broke a 2-year old downtrend on the $BTC pair and flipped back in the range on the $USD pair.

Holding above $0.247-0.25 and we could see continuation towards the range high at $0.47 and possibly $0.60. pic.twitter.com/Hr5Hk0DFxh

— Crypto Michaël (@CryptoMichNL) February 9, 2020
Crypto Michaël then goes on to share his bullish narrative, saying that if XRP can keep above $0.25, a jump to $0.47 is possible. Even going as far as to say a 140% spike to $0.60 could be on if bulls manage to keep the momentum going.

"Holding above $0.247-0.25 and we could see continuation towards the range high at $0.47 and possibly $0.60."
In addition, analyst is equally bullish, echoing much of Crypto Michaël's sentiment.

On a weekly XRP/USD chart posted in the last week, Bazza6868 noted that XRP has held long term support, suggesting that a break down below $0.21 is unlikely.
Moreover, he predicted a bull run, should XRP break the descending triangle. And an incoming run-up to $0.41 in the short term. 

"XRP looking to break out this triangle could see a bull run start very soon currently holding alot of coins in XRP have faith in this one."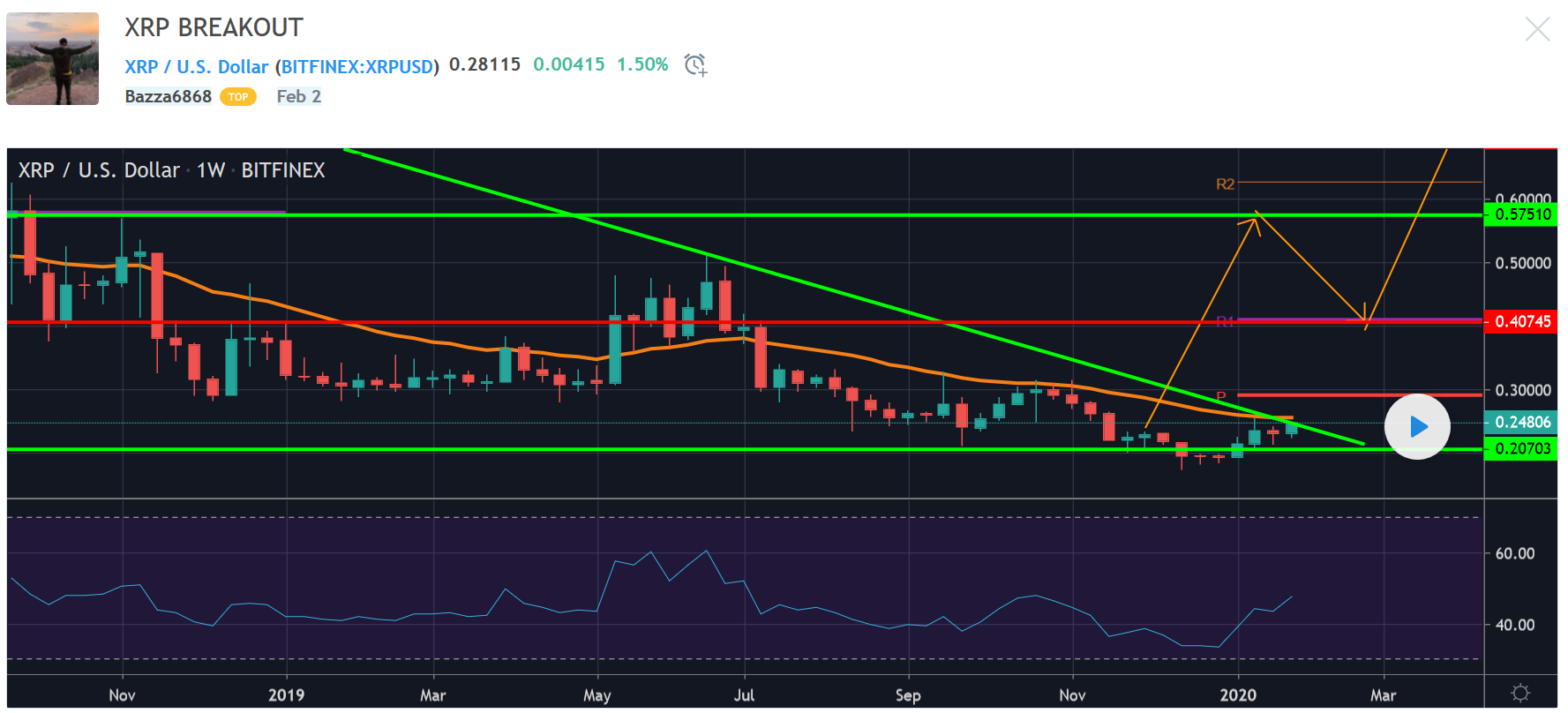 One week on from his prediction and XRP has indeed broken out of the triangle and is currently sitting just below his predicted price of $0.2935.
On Demand Liquidity is Shaking Up the Cross Border Remittance Market
As well as the technicals looking peachy, Ripple's On Demand Liquidity (ODL) product is continuing to make moves within the crypto space.
Ripple and partner Moneygram have been aggressively promoting ODL of late. This is the rebranded name for xRapid, which serves to eliminate pre-funding for cross-border payments by utilizing XRP.
At present, ODL operates within five corridors, those being USD, Euro, Mexican Peso, Philippine Peso, and the Australian dollar. And there's even talk of a Japanese corridor coming soon.
But more than that, ODL is turning the remittance game on its head, bringing immeasurable benefits for customers who point to the speed and low cost as highly beneficial for their businesses.
Daniel Vogel, CEO of Mexican exchange Bitso, recently shared his thoughts on the growing potential of ODL. Using ODL, Vogel expects to capture 20% of weekly US-Mexico remittances by the end of 2020.
ICYMI: @Bitso CEO @vogelbit on the Unqualified Opinions podcast detailing how $XRP is being used for cross-border remittances between Mexico & the US @MoneyGram USD -> XRP -> Peso pic.twitter.com/95bSovRH3E

— Messari (@MessariCrypto) January 31, 2020
And so, as Ripple continues to be at the forefront of capturing greater chunks of the cross border remittance market, XRP holders can feel good about how 2020 is panning out.